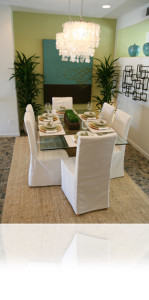 Lighting is, perhaps, the most important element in decorating. The right lamp, chandelier or ceiling fixture can instantly make a room more attractive and inviting. The wrong lighting, unfortunately, can have the opposite effect.
Here are five secrets to making the right choice:
How much lighting is required in a room? To calculate, simply multiply the square footage by 1.5. Therefore, a 12′ x 16′ living room would require 288 watts of lighting (12 x 16 x 1.5 = 288).
How big a chandelier do you need? Simply add the dimensions of the room together. So a 12′ x 16′ area could accommodate a chandelier that is 28 inches in diameter (12 + 16 = 28).
How far apart should lighting fixtures be installed in a hallway? Experts say that ideally a light should be positioned every 8 to 10 feet.
How do I create ambience? In the dining area for example, select a light fixture that can accommodate a dimmer switch. The ambiance of the room improves if you can soften the lighting during meals or when entertaining.
Using floor lamps? The bottom of the lampshade should be around 42 inches from the floor.